SLZB-06 is available now for worldwide orders at the Official store, Aliexpress and Tindie. US customers are welcome to the Amazon US with local shipping! The same for the customers from the Netherlands, Germany and Denmark – local shipments are available. Thailand customers can buy locally at Shopee!
We recommend customers from the EU countries, NO, AU, and NZ place orders at Aliexpress because Aliexpress charges VAT, so the parcels will pass customs quicker and without additional charges.
Links to the stores are below.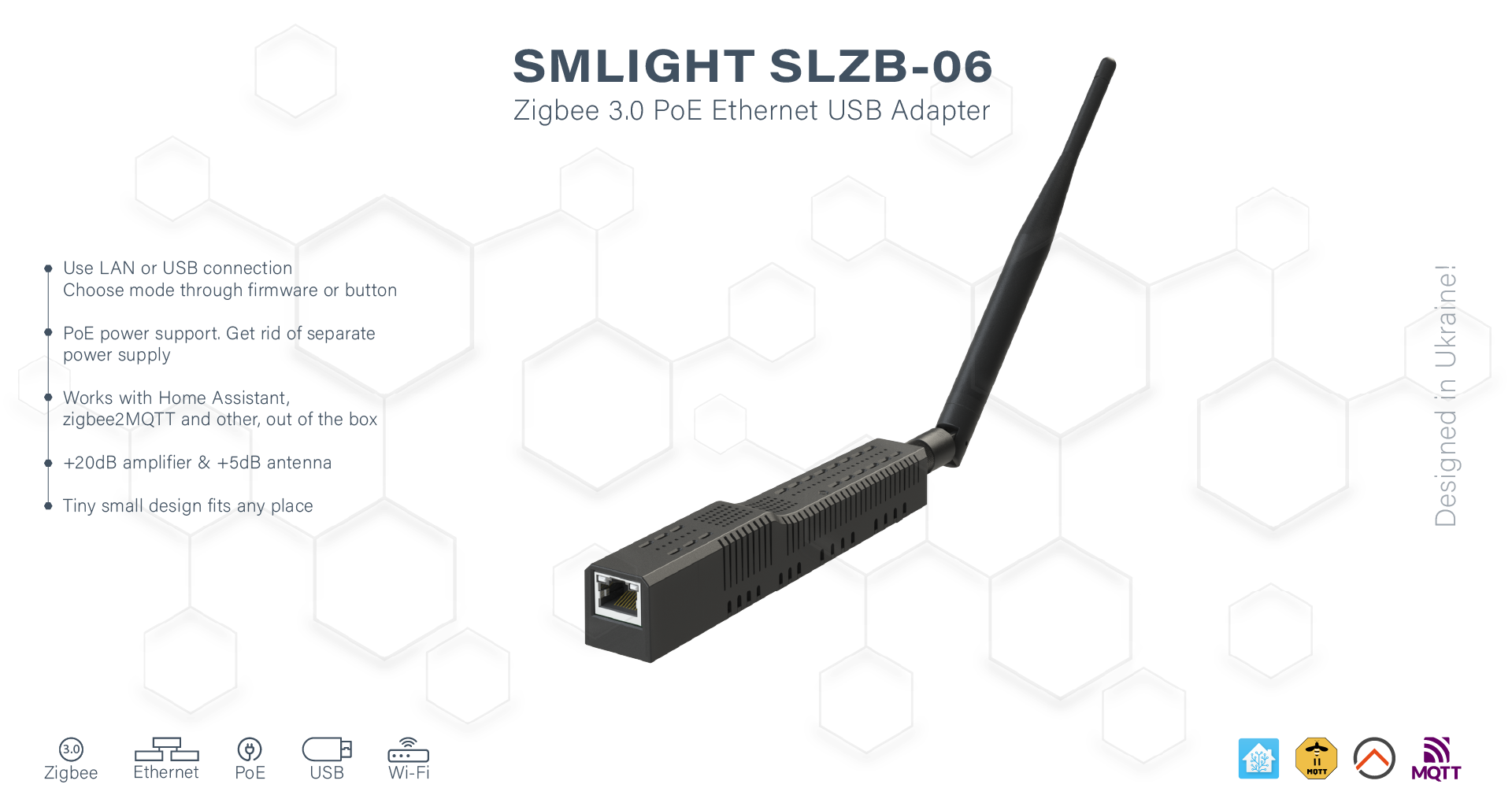 WHAT MAKES SMLIGT SLZB-06 THE BEST OPTION TO USE AS YOUR ZIGBEE ADAPTER?
SMLIGHT SLZB-06

Other POE adapters
Supports Zigbee to Ethernet?
Yes
Yes
Change Ethernet/USB working mode through firmware distantly rather than by mechanical switches?
Yes
No
Based on powerful CC2652P Zigbee chip recommended by Zigbee2MQTT?
Yes
Yes
Is the antenna +5dB included in the package?
Yes
No /

Yes

Based on UART/USB SoC CP2102 that supports up to

921600 bps speed

?
Yes
No
Do not need to change the physical switch between POE and USB powering?
Yes
No
Has optoelectronic isolation between Ethernet and USB so you can securely connect both RJ45 and type-C at the same time?
Yes
No
ESP32 and CC2652P integrated as chips on a single board to improve the system's stability rather as a combination of modules on the boards?
Yes
No
Tiny thin design (<22mm wide) to fit any small places?
Yes
No
Peripheral based on ESP32?
Yes
Yes
Supports ESP32 autoboot mode for flashing over Type-C?

Yes

No
SMLIGHT SLZB-06 – UNBOXING
SMLIGHT SLZB-06 SPECIFICATIONS
SLZB-06 SPECIFICATIONS
Main Zigbee 3.0 chip
CC2652P Texas Instruments
Main control chip
ESP32 Espressif
USB/UART converter
CP2102
Ethernet SoC
LAN8720
Zigbee SoC output gain
+20dB
Additional gain antenna
+5dB
Ethernet support
Yes
WiFi support
Yes
PoE support
Yes
PoE standard supported
IEEE 802.3af (15W)
USB Type-C control
Yes
| | |
| --- | --- |
| ESP32 Flasher integrated | Yes, based on CP2102 |
| ESP32 Autoboot | Yes, through DTR / RTS |
| Pre-flashed | Yes, Zigbee and ESP |
| Zigbee 3.0 Coordinator mode | Yes |
| Zigbee 3.0 Router mode | Yes |
| Zigbee to Ethernet | Yes |
| Zigbee to USB | Yes |
| Zigbee2MQTT support | Yes |
| ZHA support | Yes |
| Tiny design | Yes, 160x22x24mm |
| Operating environment | +5 – +35 C |
| Opensource firmware | Yes |
SMLIGHT SLZB-06 FREQUENTY ASKED QUESTIONS (FAQ)
Does SLZB-06 works with Home Assistant out of the box?
Yes, it does. Just plug in SLZB-06 into your LAN Ethernet or USB, and that is it. SLZB-06 is pre-flashed and ready to use. 
Can I set up multiple SLZB-06 coodinators with one Home Assistant?
Yes, you can. You can set up as many SLZB-06 coordinators as you want with one Home Assistant. For that, you just need to run a separate instance of Zigbee2MQTT for each coordinator. We have now received feedback from our lovely Customers about using 6 items with one Home Assistant. Please also note that you can connect to devices that are outside your LAN network, e.g., somewhere in another location with access to the internet. More details can be found in this Article of the official manual.
Overall system architecture with multiple adapters looks like this:
How to select mode USB/Ethernet? Any physical switches?
The device can be switched between USB or Ethernet either through a web-interface or by button. Just short press – and the work mode changed. Switching by web interface allows changing the work mode distantly. 
Do I need to change powering either from POE or USB? Any switch?
Oh no. You do not need to think about tit. No switches. Just plug in POE or type-C or both – and the device works. It distinguishes power sources and acts correspondingly. 
Can I update firmware distantly, without physical access to the SLZB-06?
Yes, you can. Both main chips used in SLZB-06 (CC2652P and ESP32) can be updated distantly from the other global point. That makes the device suitable for installation in rare-visited locations or installation places. 
Does it supports POE powering?
Yes, it does. The device support POE standard IEEE 802.3af. That is the "basic" POE widely used standard. Just plug and use; you do not need any other additional power cables and plugs. 
What is ESP32 Autoboot?
That is for "Pro" users who want to flash SLZB-06 with the type-C connection. ESP32 Autoboot means that the device contains a built-in programmer and schematic that allows flashing ESP32 without any additional activities: you do not need to press buttons to make ESP32 in flash mode, and you do not need to plug in additional programmers. The only thing you need – just to plug in type-C and start flashing. Easy. 
Can I connect to type-C and RJ45 at the same time? Optoelectronic isolation at place?
Yes. The device contains optoelectronic isolation between USB and Ethernet parts. So you can plug in SLZB-06 to both RJ45 and type-C at the same time.
When close to ear, I hear little noise from the PoE transformer. Is it Ok?
The enclosure of the device contains vent holes, and when close to the ears, you can hear little noise from the POE transformer. The normal is if you can't hear it more than 50 centimeters from the device.
Can it work as Zigbee-to-WiFi adapter?
This feature is under development. We have already released the alfa version of firmware (v0.9.8); soon, it will be released on the products firmware page and added to the manual. A brief review of Zigbee-to-WiFi functionality is here: https://youtu.be/naSb9n22_8Y
SLZB-06 is available for orders and shipments!